Description

We attached the Manufacturer's User Manual for your reference. Any Website posting different specifications is providing misleading information.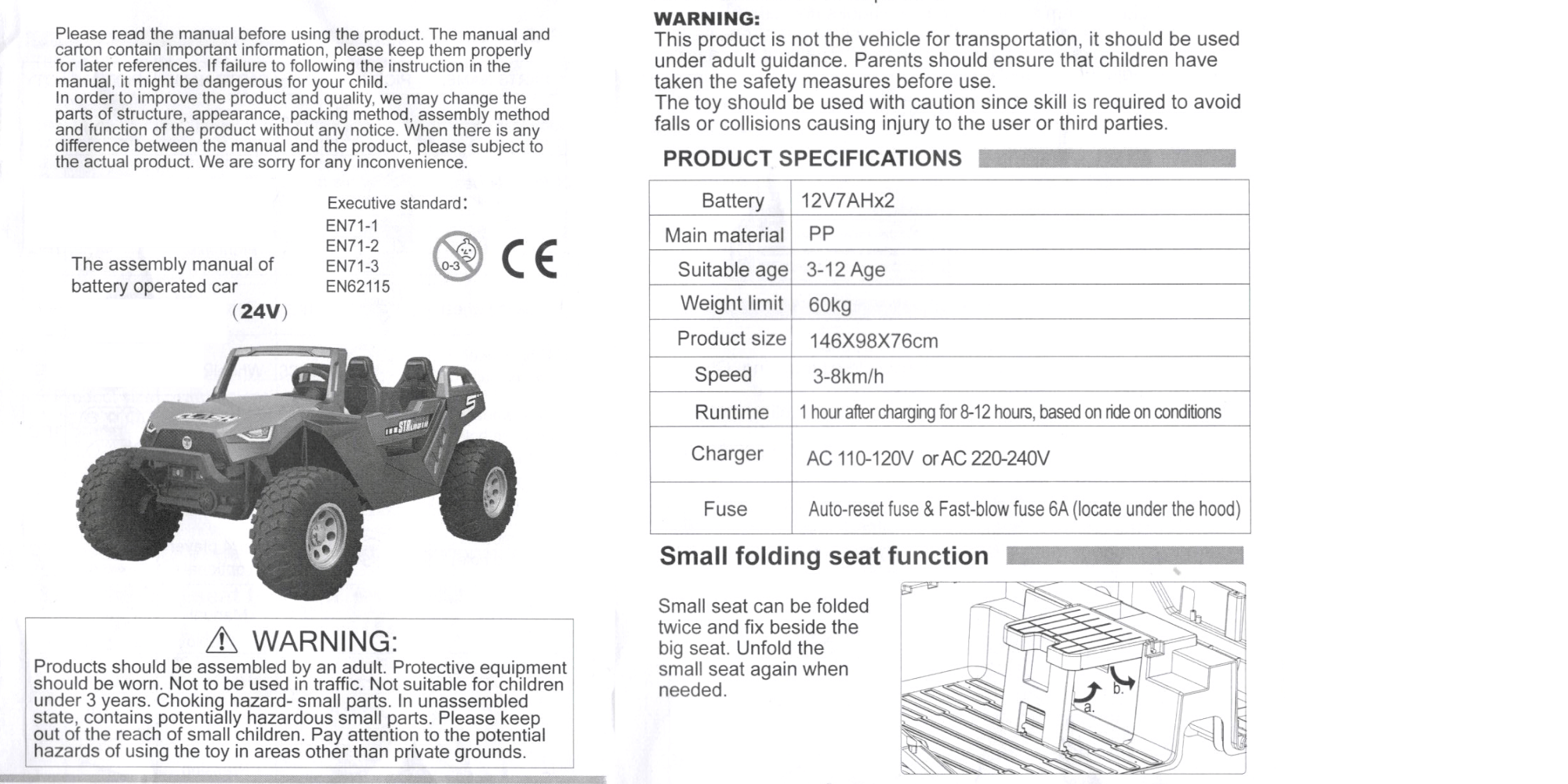 As parents, nothing is better than sharing your passions with your children! From helping them do their first cartwheel to catching their first baseball, any opportunity to enjoy your passion with your child is a worthy opportunity!
Riding is a unique passion that will ignite a spark of adventure in your child that will definitely become a lifetime of fun and adventure. So give your child a taste of the open road with this Impressive Big Dune Buggy Adventure Edition UTV!
This ride-on provides children with a chance to enjoy an enhanced thrill and an outstanding performance. Your little rider will be free to ride it on grass, rough surfaces, and dirt flawlessly.
The UTV Dune offers one of the most realistic driving experiences thanks to its various outstanding features that range from opening doors, 4 upgraded bigger motors for more strength, an Upgraded 24V battery to ensure amazing playtime, wide toy storage, bright headlights, and taillights for clear vision in dark areas to rubber wheels for optimal traction when driving. Another great feature is definitely the seats that are adjustable so your child will be able to have more legroom while driving!
The Dune Buggy is ideal for little riders who love adventure and discoveries! Parents will also be part of the adventure with the Parental Remote Control that comes with this model allowing them to take full control of the Ride-On.
Parental Remote Control Feature:
All our ride-on cars can be driven with in-car controls using steering wheel, electronic pedal, and reserve/forwards, or can be operated with included fully functional remote control if your child can't reach the pedal or if they just need a helping hand.
The remote control can take over controls of the steering wheel and control forwards and reserve.
NEW FEATURE: EMERGENCY STOP BUTTON NOW INSTALLED ON ALL OUR REMOTE CONTROLS !!! This feature can stop the ride on car in case of danger by simply pressing the "STOP" button on the remote control and to allow to kids to continue to ride simply press again "STOP" button to cancel the emergency stop.
Specifications:
    Brand
    Official UTV Dune Edition Kids Ride On Car
    Color:
    White
    Painted color:
    NA
    Seats:
    UPGRADED: 2  Leather Seats
    Seat belt:
  UPGRADED: 

2 X5 Point Safety Belts

    Opening doors:
    YES
    MP3 input:
    NA
    SD card input:
      UPGRADED: YES
    USB input:
    UPGRADED: YES
    Bluetooth:
      UPGRADED: YES
    Lights:
    Headlights / Taillights
    Battery life indicator:
    UPGRADED: YES
    Soft start:
    NA
    Wheels/Tires Material:
    UPGRADED: Upgraded EVA Rubber
    Start type:
    Push Button
    Brake type:
    Automatic when Pedal is Released
    Parental remote:
    YES
    Remote type:
    2.4ghz new generation
    Charger included:
    YES
    Battery:
      UPGRADED: TOTAL 24V
    Motors:
      UPGRADED: 4 x24v Bigger Motors
    Maximum speed:
    5-8 km/h
    Dimensions:
    55″ x 36″ x 29″
    Carrying weight:
    Up to 120 Lbs
    Recommended age:
    3 – 7 years
    Warranty:
Year Warranty for Main Circuit Board and Soundboard,6 months for mechanical and electrical failures that occur during normal use and operation in accordance with the manufacturer's specifications.
    Warranty battery:
    6 Months
    Availability:

This model is currently on Pre Order and will be available at the end of JUNE – The beginning of JULY 2021.
Please note that, during the manufacturing process, the plastic of the car has to be bent and molded, which will result in small indentations, light scratches, or pressure marks on the bodywork. These will NOT affect the overall performance or design of the ride on car and will still have all high-end specifications of our upgraded models.

Surface nature when Driving:
Surface influences the speed of electric cars. When driving over a soft surface, you will probably notice a reduction of the ride on car's speed, which is why we advise driving our electric cars over a solid surface. The same goes for riding grass: although it is definitely possible, it will reduce the speed of the car.
Battery's extra strength:
In order to ensure our customers' satisfaction, we take pride in equipping all our electric cars with an extra-strong battery that guarantees power and durability. Our years of experience showed us that having a stronger battery avoids the necessity to replace it sooner.
Ride on cars' safety:
We are taking child safety very seriously, which reflects our high safety standards: starting with the seat belt that is adjustable and a strong suspension, our ride ons also have a soft start feature which ensures the car's speed is initially slow and builds up gradually to prevent any fear or shock when driving our models. Last but not least, all our electric cars include a parental remote control that permits the parents to assist their children with the driving process when necessary.