Description

Presenting the most spectacular cross-country vehicle of all time: The Mercedes G63!
This totally customized and upgraded model comes with 6 motors and 6 rubber wheels and is equipped with upgraded 2x12V batteries for the utmost playtime fun.
The Mercedes G63 is one of the most effortlessly superior and extravagant off-roaders ever to be developed and built by Mercedes. No wonder they call it the "automotive declaration of independence"!
This model's functionality and outstanding off-road capabilities are one of the ultimate characteristics of the G-Class model, as well as the renowned luxury and high-performance that is reflected in this ride on thanks to its comfortably adjustable seats as well as its entertainment unit for your child to listen to their favorite tunes while enjoying the ride.
Amazing performance, sleek design, and all up-to-date features will definitely attract the attention of any child and will make this ride-on car their favorite new toy!
PLEASE NOTE: Photos above are just for demonstration purposes. For the specifications and technical characteristics of the item, please refer to the description below.
Parental Remote Control Feature:
All our ride-on cars can be driven with in-car controls using steering wheel, electronic pedal, and reserve/forwards, or can be operated with included fully functional remote control if your child can't reach the pedal or if they just need a helping hand.
The remote control can take over controls of the steering wheel and control forwards and reserve.
NEW FEATURE: EMERGENCY STOP BUTTON NOW INSTALLED ON ALL OUR REMOTE CONTROLS !!! This feature can stop the ride on car in case of danger by simply pressing the "STOP" button on the remote control and to allow to kids to continue to ride simply press again "STOP" button to cancel the emergency stop.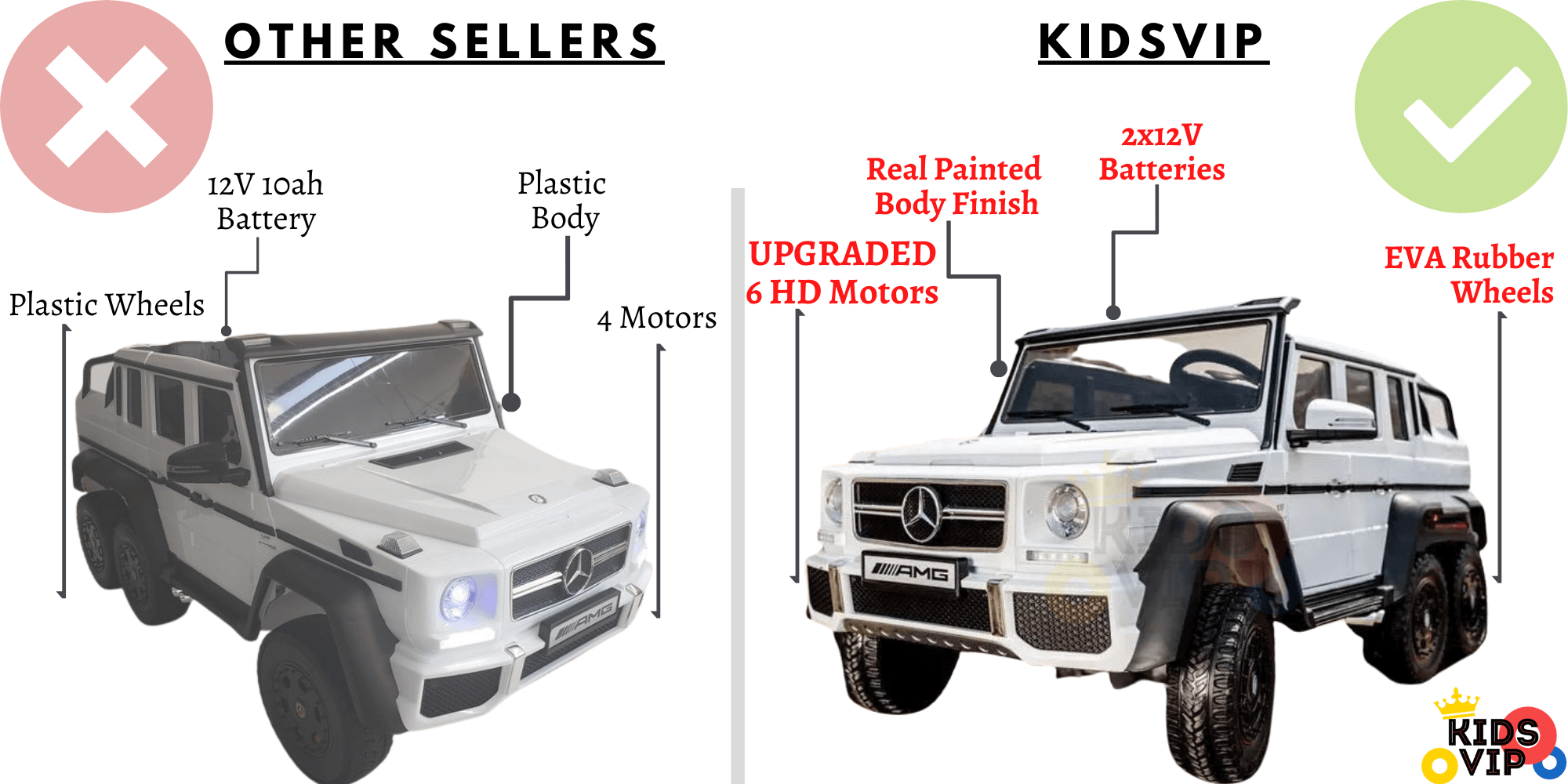 Please make sure to check the Specifications of this model as we noticed more knock-off versions on other websites that may look the same but features differ (ex. 4 motors instead of 6 motors, 1 battery instead of 2, etc..)  
Specifications:
| | |
| --- | --- |
|     Brand |     Official 2 seats Mercedes G63 (6×6) Kids Ride On Car |
|     Color: |     Black |
|     Painted color: |     UPGRADED: YES |
|     Seats: |     UPGRADED: 2 Leather Seats |
|     Seat belt: |     YES |
|     Opening doors: |     YES |
|     MP3 input: |     YES |
|     SD card input: |     UPGRADED: YES |
|     USB input: |     UPGRADED: YES |
|     Bluetooth: |     N/A |
|     Lights: |     Headlights |
|     Battery life indicator: |     UPGRADED: YES |
|     Soft start: |     UPGRADED: YES |
|     Wheels/Tires Material: |     UPGRADED: Rubber Eva Wheels |
|     Start type: |     Push-button |
|     Brake type: |     Automatic when Pedal is Released |
|     Parental remote: |     YES |
|     Remote type: |     UPGRADED: 2.4ghz soft start |
|     Charger included: |     YES |
|     Battery: |   UPGRADED: 2x12V Batteries |
|     Motors: |    UPGRADED: 6 x 12V HD Motors |
|     Maximum speed: |     3-7 km/h |
|     Dimensions: |    59″ x 33.6″ x 71.5″ |
|     Carrying weight: |     Up to 100 Lbs |
|     Recommended age: |     1 – 6 years |
|     Warranty: |    1 Year Warranty for Main Circuit Board and Soundboard,6 months for mechanical and electrical failures that occur during normal use and operation in accordance with the manufacturer's specifications. |
|     Warranty battery: |     6 Months |
|     Availability: | Product in Stock |
Please note that, during the manufacturing process, the plastic of the car has to be bent and molded, which will result in small indentations, light scratches, or pressure marks on the bodywork. These will NOT affect the overall performance or design of the ride on car and will still have all high-end specifications of our upgraded models.

The assemblage of our Ride On Cars:
When purchasing and receiving one of our ride-on cars, we make sure the assemblage process is easy and quick, which is the reason why our electric cars come around seventy percent pre-assembled and only require some minor touches. Assembling our cars is not a hassle at all; we send a detailed manual along with the package that explains all the few necessary steps to set up the ride on. These steps do not involve any cable handling and will mostly include installing the wheels as well as the steering wheel. For the electronics part, you will only be required to connect the plugin to the "contact".
Surface nature when Driving:
Surface influences the speed of electric cars. When driving over a soft surface, you will probably notice a reduction of the ride on car's speed, which is why we advise driving our electric cars over a solid surface. The same goes for riding grass: although it is definitely possible, it will reduce the speed of the car.
Battery's extra strength:
In order to ensure our customers' satisfaction, we take pride in equipping all our electric cars with an extra-strong battery that guarantees power and durability. Our years of experience showed us that having a stronger battery avoids the necessity to replace it sooner.
Ride on cars' safety:
We are taking child safety very seriously, which reflects our high safety standards: starting with the seat belt that is adjustable and a strong suspension, our ride ons also have a soft-start feature which ensures the car's speed is initially slow and builds up gradually to prevent any fear or shock when driving our models. Last but not least, all our electric cars include a parental remote control that permits the parents to assist their children with the driving process when necessary.