Description
This 9 in 1 INJUSA Diavolo Max Ride On Car is an evolution of Ride Ons for Toddlers! The new model allows changing the details of the Car so it fits for kids from 10 months to 3 years!
Kids are growing fast and this Ride On grows with them! The 9 in 1 INJUSA Diavolo Ride On was designed and made in Spain, and can turn from the rocker to a Ride On which kids can control by themselves! The first variation of this model is a rocket with a parental handle and safety arch for extra safety, the arch is removable. Then it can be transferred into a ride on with a handle and an arch for outside walks, it also could be used as a push car for kids from 12 months! And from the same age kids can use it as a ride on and ride by themselves without parental help or a safety arch.
It also includes interactive push buttons and sounds, which make the rides even more interesting and funny! 9 assembly variations of this model allow having more interactive and interesting outdoor or indoor playtime!
The safety arch, folding footrest, and safety harnesses ensure safe rides in all model assembly variations. The parental handle is made for even more comfort for parents during the walks, and it is also removable for kids riding the Ride On by themselves.
PLEASE NOTE: Photos above are just for demonstration purposes. For the specifications and technical characteristics of the item, please refer to the description below.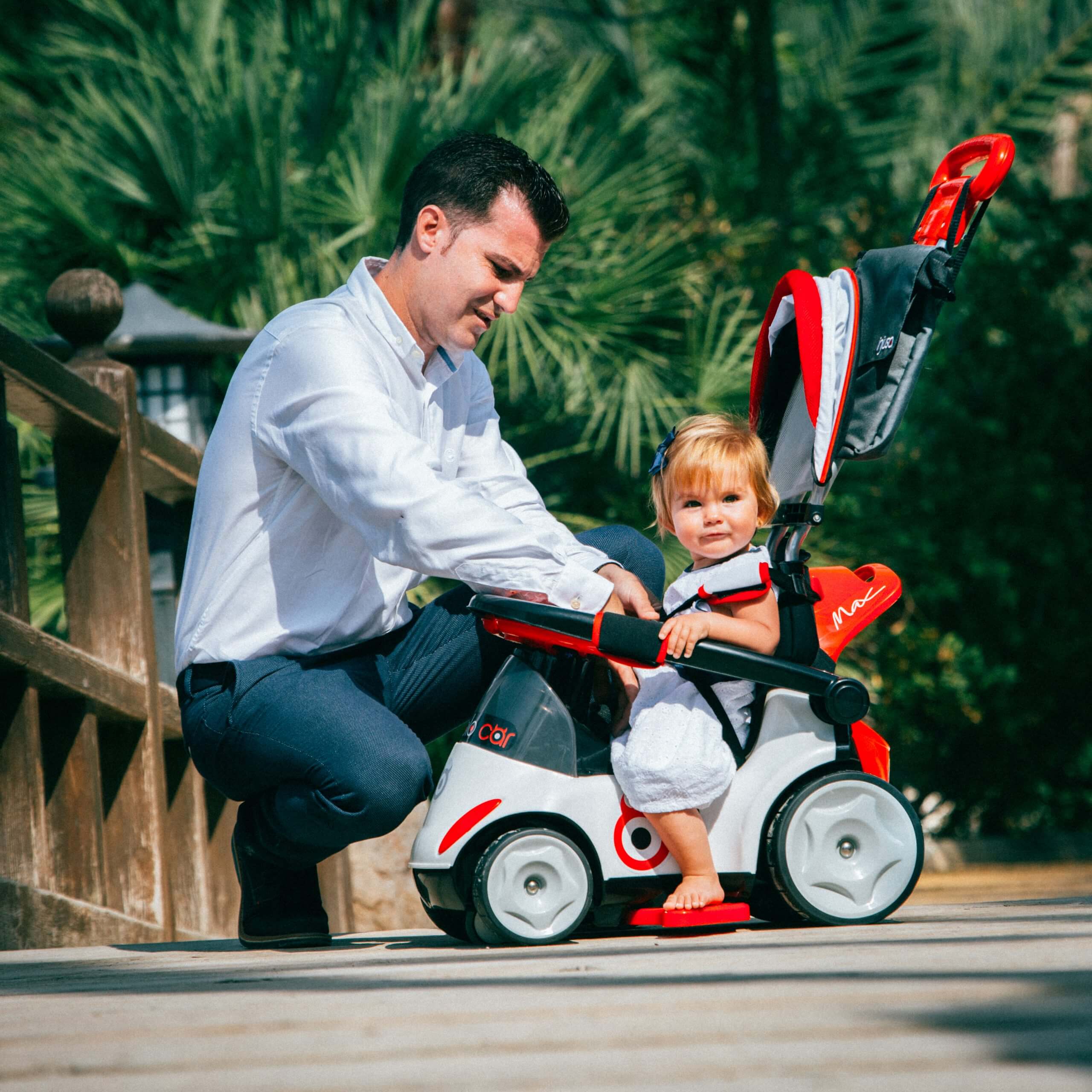 Features:
| | |
| --- | --- |
|     Brand | INJUSA 9 in 1 Diavolo Edition Push/Rocker/ Foot to Foot /Ride on with Handle for Toddlers |
|   Parental handle : |  Yes, Removable |
|     Color: |  White/red |
|     Seats: |   1 Seat |
|   Acceleration: |  Foot to Foot / Push |
|   Rocker: |    YES |
|   Safety Guards: |    YES, Removable |
|     Wheels: |    Oversized Wheels |
|     Dimensions: |  62.5 x 35 x 97 cm |
|     Carrying weight: |     Up to 45 Lbs. |
|     Recommended age: |   10m – 3 years old |
|     Availability: | This Model is in stock and available for shipping/pick up/delivery |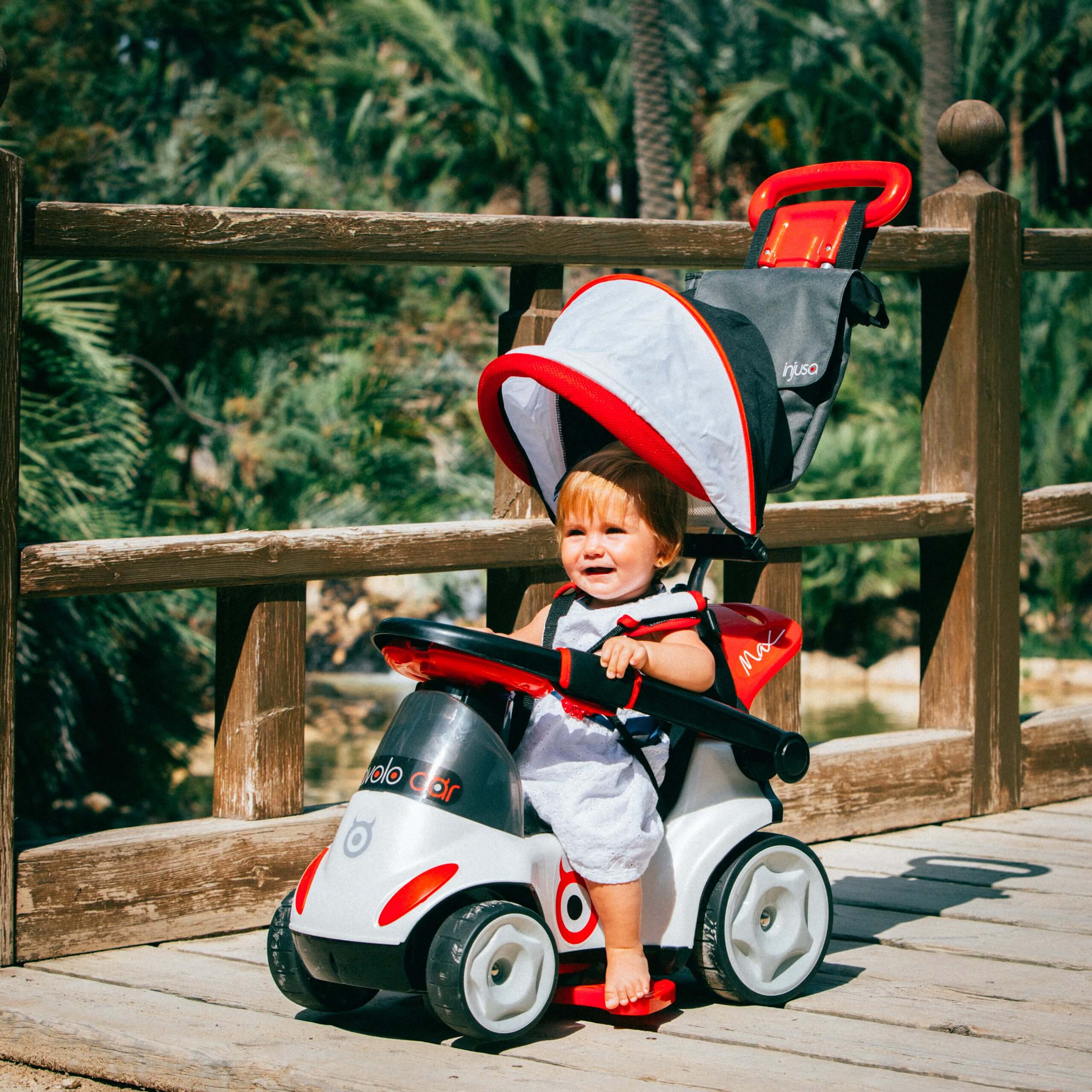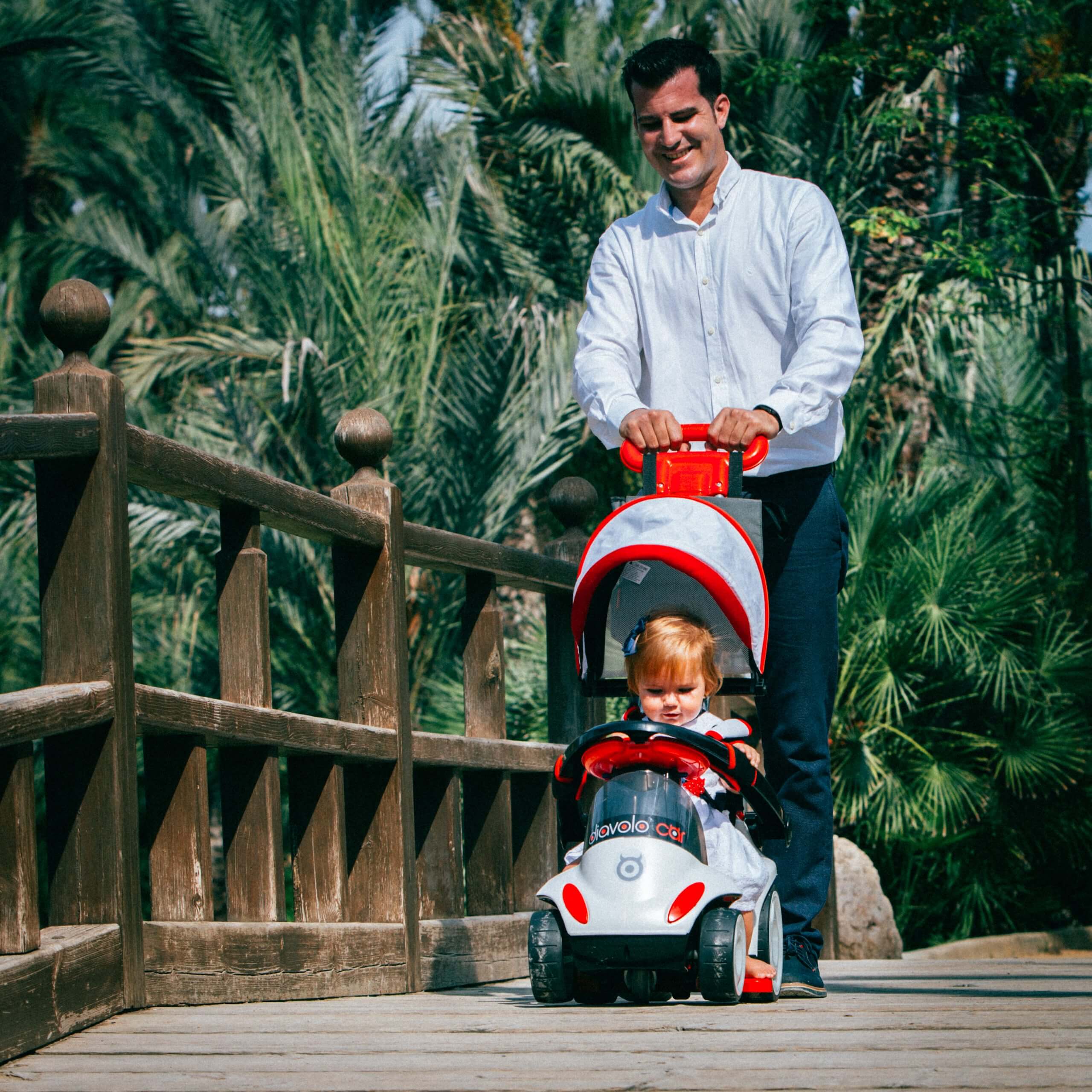 Please note that, during the manufacturing process, the plastic of the car has to be bent and molded, which will result in small indentations, light scratches, or pressure marks on the bodywork. These will NOT affect the overall performance or design of the ride on car and will still have all high-end specifications of our upgraded models.
The assemblage of our Ride On Cars:
When purchasing and receiving one of our ride-on cars, we make sure the assemblage process is easy and quick, which is the reason why our electric cars come around seventy percent pre-assembled and only require some minor touches. Assembling our cars is not a hassle at all; we send a detailed manual along with the package that explains all the few necessary steps to set up the ride on. These steps do not involve any cable handling and will mostly include installing the wheels as well as the steering wheel. For the electronics part, you will only be required to connect the plugin to the "contact".
Surface nature when Driving:
Surface influences the speed of electric cars. When driving over a soft surface, you will probably notice a reduction of the ride on car's speed, which is why we advise driving our electric cars over a solid surface. The same goes for riding grass: although it is definitely possible, it will reduce the speed of the car.
Battery's extra strength:
In order to ensure our customers' satisfaction, we take pride in equipping all our electric cars with an extra-strong battery that guarantees power and durability. Our years of experience showed us that having a stronger battery avoids the necessity to replace it sooner.
Ride on cars' safety:
We are taking child safety very seriously, which reflects our high safety standards: starting with the seat belt that is adjustable and a strong suspension, our ride ons also have a soft-start feature which ensures the car's speed is initially slow and builds up gradually to prevent any fear or shock when driving our models. Last but not least, all our electric cars include a parental remote control that permits the parents to assist their children with the driving process when necessary.