Description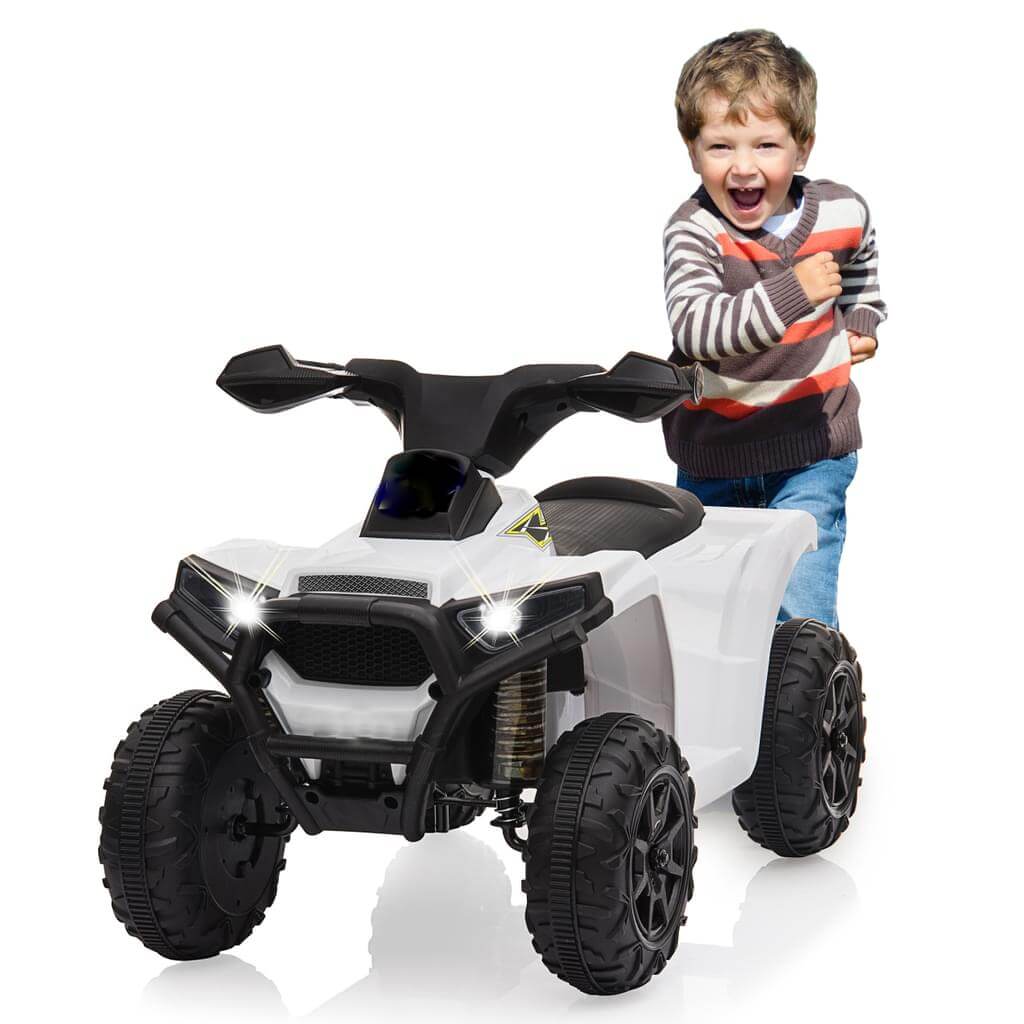 The Luxury X-Edition Ride-on Quad is the newest addition to KIDS VIP's largest collection of kids' ATVs. It is ideal for toddlers because it is a 6V ride-on vehicle with a top speed of about 1-2.5 km/h and a long-lasting battery that can provide up to 50 to 90 minutes of nonstop entertainment. The steering wheel is easy to use while the solid frame offers adequate support, and acceleration is controlled by simply pressing down on the foot pedal; once the pedal is released, the ride-on comes to a complete stop. The 6V X-Edition Quad is suitable for use both indoors and outdoors, and its compact size makes storage a breeze! You can take this little quad anywhere, including the park, for a walk, or to camp. This model is made to the highest quality standards in order to provide the best product for your toddlers! The unit is simple to assemble, so kids can start riding right away sharpening their coordination and motor skills, even at playtime.
Specifications:
    Brand

X Edition 6V Ride-On Quad /ATV for Kids, Rubber Wheels

  Color:

 RED

    Seats:

  1 ECO Leather Seat

  Acceleration:

   UPGRADED: Progressive Acceleration

    Soft start:

    NA

    Wheels:

 4 wheels

    Charger included:

    YES

    Battery:

  UPGRADED: TOTAL 6V

    Motors:

 UPGRADED:  6V HP Motor

    Maximum speed:

    Top Speed 1-3 km/h

    Dimensions:

 68X42X45 cm

    Carrying weight:

    Up to 40 Lbs.

    Recommended age:

  1-4 Years old

    Warranty:

1 Year: Main Circuit Board and Soundboard




6 months: Mechanical and electrical failures that occur during normal use and operation following the manufacturer's specifications.

    Warranty battery:

    6 Months

    Availability:

IN STOCK
Please keep in mind that the plastic used to manufacture the vehicle must be bent and molded, which may result in minor indentations, light scratches, or pressure marks on the bodywork. These are purely cosmetic in nature and have no bearing on the overall performance or design of the ride-on car. The product will retain all of the upgraded model's high-end specifications.
Assembly:
When you buy and receive one of our ride-on cars, we make sure the assembly process is simple and quick, which is why our electric cars are nearly seventy percent pre-assembled and only require minor adjustments. Assembling our cars is simple; we include a detailed manual with the package that explains all of the few steps required to set up the ride on, and an assistance video can be provided upon request. These steps do not involve any cable handling and will primarily consist of installing the wheels and steering wheel. You will only need to connect the plugin to the "contact" for the 'electricals' portion of the assembly.
Surface nature when Driving:
The speed of electric vehicles is affected by the surface. When driving over a soft surface, you will most likely notice a decrease in speed, which is why we recommend driving our electric vehicles on a solid surface. The same is true for riding grass: while it is certainly possible, it will reduce the speed of the car.
Battery's extra strength:
To ensure our customer's satisfaction, we take pride in outfitting all of our electric vehicles with an extra-long-lasting battery that ensures power and durability. Years of experience have taught us that having a stronger, more reliable battery significantly extends the timeframe for when it will need to be replaced.
Ride on cars' safety:
At KIDS VIP, child safety is our primary concern, which reflects in our high safety standards: in addition to an adjustable seat belt and a strong suspension, our ride-on cars have a soft-start feature that ensures the car's speed is initially slow and gradually accelerates to prevent any fear or shock when driving our models. Lastly, all of our electric vehicles include a parental remote control that allows parents to assist their children with driving when necessary.