Are you trying to get your children interested in cars?
We've come up with a list of electric ride on cars that your kids will love. 
We have taken a lot of things into account like safety features, weight limit, rechargeable battery, whether or not the car comes with parental remote control, and so much more. Some even feature LED headlights! So if you've got a kid and they're ready to get a ride, we have a ton of electric rides on this list.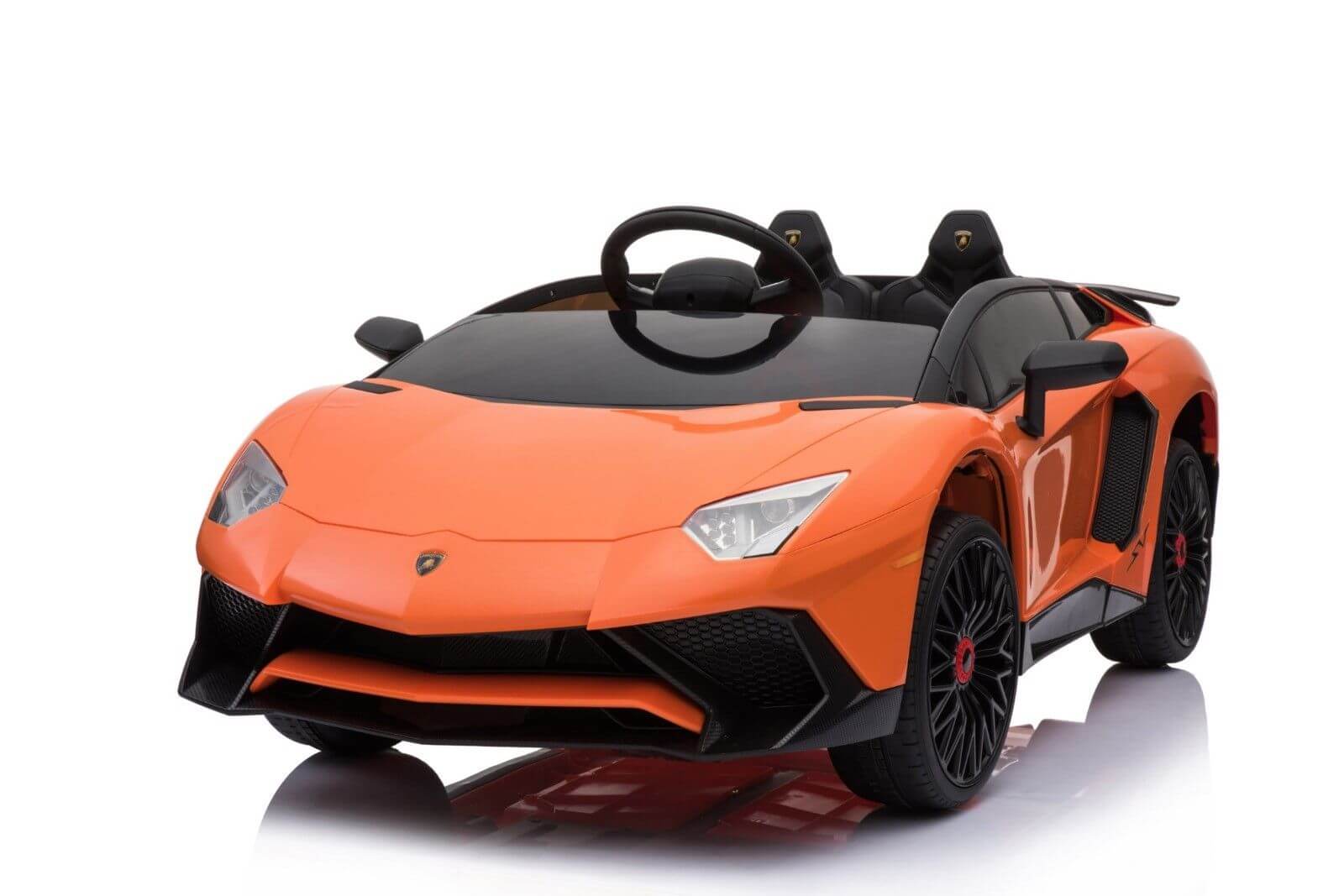 Are you looking to start your child on the journey of auto luxury at an early age? 
These officially licensed Lambo have sports doors that open upwards for that high-tech sports car feel. The mini-sized SV comes with technologically advanced features such as LED headlamps and auxiliary outlets so your children can play their own music through the car, delivering maximum street presence in a tiny package.
This luxury electric car measures 52" long, 28.75" wide, and 18" high, making it best suited for children ages three to eight years old. The ride clocks in at 3.7 miles per hour at its max speed, and it can be controlled both by a child inside the cabin and by their parent via remote control. This kid-powered car can withstand up to 66 pounds and can be used both indoors and outdoors. 
New remote controls feature a stop button that will stop the ride-on car when pressed. This coolest toy car also has built-in speakers and built-in MP3/SD/USB inputs as well as pre-installed music and for fun, the car makes realistic engine sounds, creating a more realistic and sporty model.
The Lamborghini SV is our pick for the best street-ready ride-on car.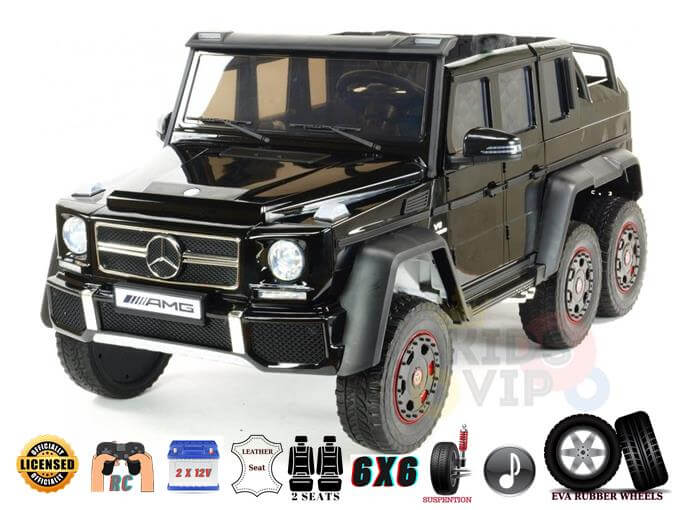 If you are looking for durability, space, comfort, and luxury, look no further and let us introduce to you the Officially Licensed Mercedes GLA Edition!

Representing one of the best-selling cars at Mercedes, the GLA ride-on car is a one-seater that offers high standard quality and luxurious features you would expect from such a prestigious brand. 
This model's stunning features range from its rubber wheels, opening doors, and leather seat to its upgraded motors and battery. Don't forget its amazing entertainment center equipped with Pre Uploaded Music with the possibility for your child to listen to their own tunes thanks to multiple music inputs.

Finally, this ride-on offers a 5-point harness as well as a 4-wheel suspension to ensure the utmost safety for your child while they are enjoying their new adventure! We also didn't forget the parent's comfort, so we also included a portable handle to be able to move the GLA-like luggage. 
The Mercedes GLA is ultimately the best gift for your little rider!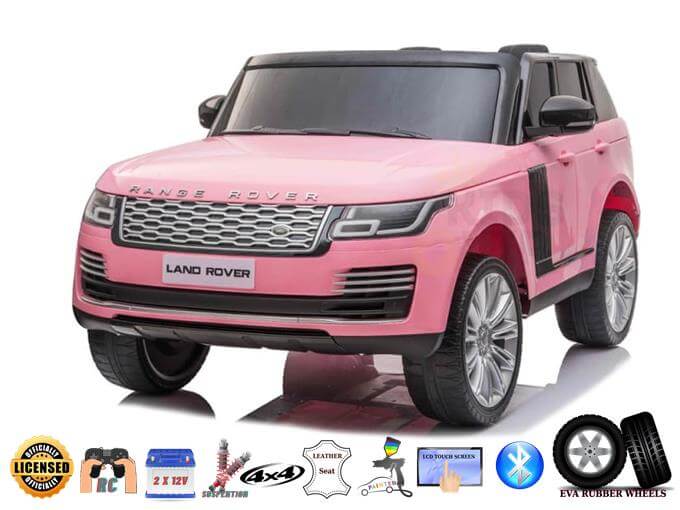 There is something special and unique about owning a Range Rover, no matter the age! This model inspires greatness and commands insight far greater than one can comprehend. That's the Power of the Licensed Range Rover!
When it comes to State of Art Technological upgrades, this model boasts the most advanced features on the market, that allow it to outperform your wildest imagination, whether it be driving or entertainment! The Range Rover will definitely be the essence of your child's well-being.
The miniature Ride on car Range Rover is equipped with all the official emblems and realistic features of the full version and offers unique characteristics worthy of the renowned name of the Range Rover. 
These features include Opening Doors, 2 Leather Seats for Comfort as well as seat belts for safety, an MP4 Multimedia that enables your child to enjoy their ride while listening to their favorite songs or watching their favorite movies or cartoons when they stop to chillax! 
When it comes to enhancing performance, this model offers 4 Bigger Upgraded Motors as well as 2 X 12V Batteries for an exceptionally long-lasting performance which trends to an overall phenomenal playtime for kids!
When looking for a ride-on that is not only luxurious in design but also offers the capable performance to conquer the roads effortlessly. Then you will see why your little girls love the Range Rover so much!
KIDS VIP Proudly Presents the Ultimate Upgraded Ride-On Buggy: The 24V UTV Viper off-road MP4 Kids Ride-On Buggy! 
This model is designed to dominate the roughest terrains in the smoothest possible way. With a combination of rugged sport performance, this ride-on is built to conquer the outdoors.
With a more advanced powered 24V battery, this model delivers consistent, high-quality performance that exceeds expectations. The 24V ride-on features 4 x 24V bigger motors that will handle trails effortlessly, upgraded rubber wheels with top-notch traction capabilities, and upgraded suspension which will facilitate a smooth driving experience for your little adventurer!
The Viper offers the latest in ride-on technology: MP4 touchscreen, so your kids can watch a movie after their outdoor adventure or simply listen to their favorite music while driving. 
Premium cushion leather seats with seat belts make every drive safer and more enjoyable, and super bright LED lights brighten up the evening trails when on late-night adventures. Plus an emergency stop feature on the parental remote control.
When it comes to the Perfect Ride-on for reliable off-roading performance: The 24V UTV Viper Excels above the rest! Delivering a truly Adventurous experience!
Also Check: Best Electric Cars For Kids in 2022
Best Budget Picked
Presenting a new-fashioned multipurpose toddler convertible: The highly developed Big Rig push/ride-on cars!
This ultra-modern ride-on is designed not only to appeal to toddlers' sense of attraction but also to guarantee exceptional safety features such as guards to keep toddlers securely in while playing, parent handle to allow parents to guide their toddlers accordingly and parental remote control for added assistance making this ride-on/push very attractive to parents.
This model is equipped with an upgraded 6V battery-powered system to deliver longer-lasting playtime, a more upgraded 20W motor to deliver greater performance, and anti-skid wheels to allow for a much smoother driving experience.
This trendsetting toddler Big Rig ride-on is designed with "UTMOST SAFETY" in mind, making it the must-have gift for all toddlers!!
For kids, having an electric car they can drive around emboldens them, makes them feel good, and is almost a rite of passage these days. It's a great toy to buy your kids, and if done right, it's a one-time purchase that they'll cherish and get used out of for years to come.  It's funny how easily and quickly kids learn to drive these ride-on toys, and how much joy they bring to them.
So, if you're ready to be the world's best mom, dad, grandparent, aunt/uncle, or anyone else, take a look through our top 10 rated, best electric cars for kids list above. 
We hope this guide was helpful and the battery-powered ride-on toy reviews above came in handy.  Lean towards buying a good one and you won't regret it in the future.